Review The Celtic Fan by Deanndra Hall
Labels: Book Reviews, Heidi's Reviews
·
Posted by Unknown
at 8:15 AM

The Celtic Fan. It's a number one bestseller on every list. It's a love story for the ages. And it's a mystery. At least its author is. Nick Roberts has never been seen. He doesn't do interviews. He doesn't answer fan mail. He doesn't do late-night talk shows, or book signings, or conferences. No one knows who he is. Everyone is looking for him; websites have been set up offering rewards for finding him. Four old friends plan their annual road trip. It's been a toss-up every year, with each being different (and some not so good). But this year Russ's idea is to find Nick Roberts. With an address stolen from the accounting files of the publishing house that's home to The Celtic Fan, the four friends set out to find the elusive Roberts and make names for themselves. And as three begin to get distracted - Russ by women, Michael by liquor, and Jim by porn or who knows what - only one stays the course: Steve Riley, a journalist from Knoxville, is determined to find Roberts and land the story of the century. His dedication to his mission is complicated by a deluge, a flash flood, and an obviously incorrect address. But as time has its way, Steve begins to wonder if his trip will be successful in other ways. And if his suspicions are correct, what will he do when they're confirmed? Even more unsettling is the real question: If he finds Nick Roberts, will he tell? Set in the foothills of the beautiful Smokey Mountains, The Celtic Fan is two stories - the story of a journalist following his biggest story ever, and of a wounded soldier and the girl with whom he falls in love post-World War II. Throughout the pages, Bill and Claire's tragic tale winds its way through Steve's story, a sweet and sensual account he never thought he'd tell. Take the time to savor and enjoy his telling, and bring your tissues - you'll need them.
Deanndra Hall is a working writer living in far western Kentucky. A free spirit and chronic jokester, she and her partner of over 30 years enjoy visiting their two adult children and their partners and playing with their three crazy little dogs. When she's not writing, Deanndra can be found kayaking, working out at the gym, cooking something healthy, or reading. After writing for business, industry, academia, and non-profits for years and having her work credited to others, she jumped into the fiction realm, particularly erotic fiction and erotica, and had so much fun she never looked back. Look for her on Twitter and Facebook and on her website and blog.
I have yet to grab a book by this author that I did not like. This story is a bit different than her other books. It takes a bit, but slowly you are drawn into the two love stories unfolding in the book. Before you know it, you are hooked!
This story revolves around two stories, one, of a book written by an unknown author, Nick Roberts, and two, a tale of 4 friends on an adventure to find the author and land the biggest story of their lives. The story by the elusive Nick Roberts, is a lost love story about a WWII crippled vet and the love of his life, a young Jewish girl. Her father forbids their pairing and buys off the man, Bill. He figures he will use the money to start their lives together but before she knows whats going on, she runs away to the city. The tragic tale of their love gone wrong will tear at your heart, leaving you raw and saddened. It is told in bits as the main story unfolds.
The main story revolves around four friends, Russ, Steve. Michael and Jim. Every year they go do something crazy, and this year, they want to find the author of the most popular book ever. Nick Roberts does not do interviews, book signings or late night TV. No one knows who he is. Russ unearths some information and an address, so they head out to find him. Once in the town, they get a real estate lady to show them around, but come up empty. Steve decides to go hike out towards the address they found, and ends up trapped by rain at Diane's house, the address they found. He is stuck there for a few days, and finds himself falling in love. How will he figure out who Nick Roberts is? And if he does, will he tell anyone? This emotionally charged read will leave you believing in fate, and short on Kleenex. But oh what a ride!
Heidi gave The Celtic Fan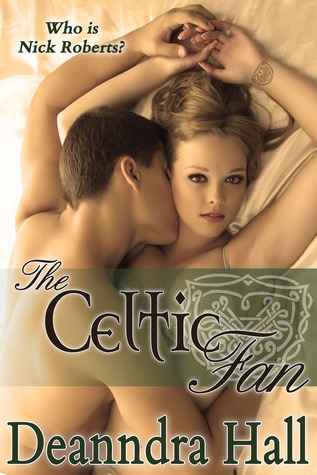 To buy Click here on the book above