REVIEW – Relent (Sydney Storm MC #1) by Nina Levine
Labels: Book Reviews, Drue's Reviews
·
Posted by Unknown
at 10:00 AM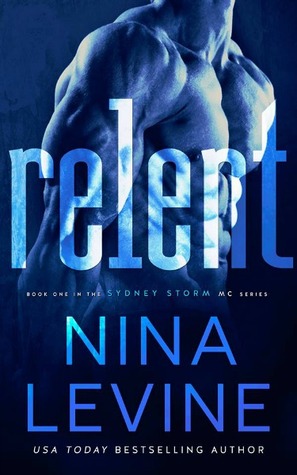 Book Title - Relent (Sydney Storm MC #1)
Author - Nina Levine
Stars - 5
Buy Link – AMAZON
Evie Bishop grew up loving Kick Hanson. He loved her, too. They were inseparable. Best friends who looked out for each other. Until the day scandal hit their families and ripped everything apart, changing the course of all their lives.

Kick follows a dangerous path that leads him to the Storm MC where he spends his days buried deep in a violent and lawless world that is slowly consuming his soul. Evie works hard to escape the hopelessness that threatens to swallow her after her family is ripped apart. She builds a stable life for herself, however it's devoid of the one thing she has always longed for - Kick.

The love these two have for each other never wavers but sometimes in life, love isn't enough. Even in the times they find each other again, they can never make it work. Kick fights against bringing Evie into his world and Evie refuses a life with Kick if he won't fully commit to her. However, when circumstance throws them together again, Kick knows he must finally make her his. The trouble is, Evie's done. She loves him but she believes their chance to be together has long passed.

When Kick finally stakes his claim, will Evie relent and give their love another go, or has Kick left it too long to go after the woman who has owned his heart forever?

Relent is the first book in the Sydney Storm MC series. This is a spin off series to the Storm MC series. Readers do not have to read the Storm MC series to read this one.
I cannot say enough great things about this book. I loved everything about it. I loved the way the author showed that life long love does not always work out until its suppose to.

Evie and Kick have been best friends since they were kids, their families almost inseparable until one tragic event leads to another tragic event that rips the long time family friendships apart and starts a downward spiral for many members of both families. But Evie and Kick remained attached to each other until their own inner issues get in the way. Then yet another tragedy reunites Evie and Kick and that is when Kick realizes he can't live without Evie, but the road to happiness is not an easy one and both of them have to work hard to get there.

This book also had an underlying story of self doubt and low self esteem, due to many events in her life Evie just does not think very highly of herself, and Kick is just absolutely AMAZING at making Evie see, believe and feel her own self worth. What can I say, Kick is just......dreamy, he's not a billionaire, or a celebrity, in fact, he's actually a criminal, but even his criminal activities have a deep underlying meaning, he's the perfect book boyfriend as far as I'm concerned.
Drue gives Relent (Sydney Storm MC #1)