REVIEW–Her Lone Wolf (X-Ops #2) by Paige Tyler
Labels: Book Reviews, Drue's Reviews
·
Posted by Unknown
at 11:00 AM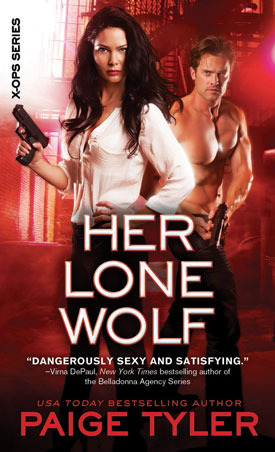 Book Title - Her Lone Wolf (X-Ops #2)
Author - Paige Tyler  
Stars - 4
Buy Link – AMAZON
Leaving him was Impossible…
It took everything she had for FBI Special Agent Danica Beckett to walk away from the man she loved. But if she wants to save his life, she has to keep her distance. Now, with a killer on the loose and the stakes higher than ever before, the Department of Covert Ops is forcing these former lovers into an uneasy alliance…whether they like it or not.
Seeing her again is even worse
The last thing Clayne Buchanan wants is to be shackled to the woman who broke his heart. She gets under his skin in a way no one ever has and makes him want things he has no right to anymore. All he has to do is suffer through this case and he can be free of her for good. But when Clayne finds out why Danica left in the first place, everything he's tried to bury comes roaring back—and there's no way this wolf shifter is going to take no for an answer this time.
The top secret DCO agency has been called in by ex-operative Danica Beckett, now an FBI Agent, to help solve a serial murder case, that has some unique characteristics that Danica notices all too well. Who does the DCO send? The one man she thought she would never see again, the man who hates her more than anyone in the world, the man who's heart she ripped to shreds, the man who she loves more than anything.
Clayne Buchanan has always been somewhat of a rogue, he doesn't play well with others, and he doesn't work well with others. Until he was paired up with the beautiful Danica, they were the perfect pair, partners in sync with each other and then Danica destroyed him.
I love this series, I like the whole government top-secret agency type stuff, the paranormal angle and of course the electrifying romance. X-Ops is a fantastic Paranormal Romantic Suspense Series and is at the top of my ones to watch for list!
REVIEW ORIGINALLY POSTED IN THE NOVEMBER/DECEMBER ISSUE OF BTS EMAG
Drue gives Her Lone Wolf (X-Ops #2)