REVIEW – Her Winged Fate (Project: Genome) by Ruth D. Kerce
Labels: Barb's Reviews, Book Reviews
·
Posted by Unknown
at 6:51 AM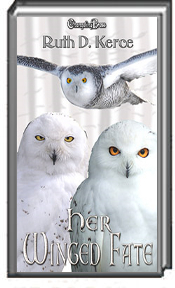 Book Title - Her Winged Fate (Project: Genome)
Author - Ruth D. Kerce
Stars - 4
Buy Link –
Three owl shifters and one human female are on the run to survive.

Sheridin Jacoby must save three snowy owl shifters from being taken by a foreign government determined to discover how the shifter protocols work. Mast, Maze, and Mason aren't worried as long as Sheridin is with them and agreeable to being their mate. Their love will see them through anything.
Three snowy owls who shift into three gorgeous hot men is what Sheridan Jacoby has gotten involved with and she really isn't sure how she feels about the situation. Her friend Josh tricked her into going to bed with these birds, well men. He asked her to bird sit for him while he was out of town but he never told her that these were special birds. Never even mentioned they could shift from birds to human men. Josh had a research project that needed her help and that help was for her to go to bed with all three of them for scientific purposes.

This book was a nice quick read. Had plenty of sex with the men and Sheridan. Sheridan does end up caring for them all and you can tell they already love her because they think of her as their mate. The owls are being hunted by some really nasty people and even though Sheridan is willing to protect them at all costs, the owls (men) are wanting to protect her also.

The only thing I really didn't like was the fact the ending left me hanging. I ended up with some questions and I am hoping there will be a sequel where I can get those questions answered. Want a good quick hot read? Give this book a shot, it was what I like in a quick erotic read.
Barb gives Her Winged Fate (Project: Genome)