REVIEW–The Ruby Circle: A Bloodlines Novel by Richelle Mead
Labels: Book Reviews, Heidi's Reviews
·
Posted by Unknown
at 10:00 AM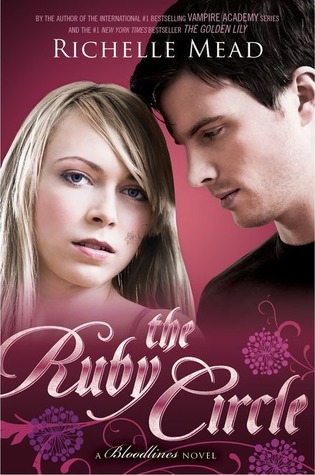 Book Title - The Ruby Circle: A Bloodlines Novel
Author - Richelle Mead
Stars - 5
Buy Link – AMAZON
Sydney Sage is an Alchemist, one of a group of humans who dabble in magic and serve to bridge the worlds of humans and vampires. They protect vampire secrets—and human lives.

After their secret romance is exposed, Sydney and Adrian find themselves facing the wrath of both the Alchemists and the Moroi in this electrifying conclusion to Richelle Mead's New York Times bestselling Bloodlines series. When the life of someone they both love is put on the line, Sydney risks everything to hunt down a deadly former nemesis. Meanwhile, Adrian becomes enmeshed in a puzzle that could hold the key to a shocking secret about spirit magic, a secret that could shake the entire Moroi world.
Ok, this was so worth the wait. I hate to think this world is done. There is enough room for her to do more in the world she created, and she hints a tiny bit that this may be possible in the future, but the Bloodlines is done. I loved the pace, the way we get to see all of the favorite characters from earlier books, the surprise twist with Olive, all of it. Richelle is a great story teller. The cliffhanger from the last book was what had me on the edge of my seat waiting for this book. It delivered, in my eyes, everything I have come to expect from this author. This was just an all around, well told story full of well developed characters.
With Sidney and Adrian safely at court, hiding from the Alchemists, they were feeling the resentment of both of their worlds towards them. It wasn't feeling like they thought they would. But now they have a huge problem. They have to find Jill, but they can't leave court. When a surprise friend shows up with a cat to visit, things start looking up. The clue they have is for a place away from court, but they can't let anyone know they aren't there. So Sidney, with help, vanishes from court with out Adrian. On the hunt with her two helpers, they start following the clues. Adrian is facing his own trauma to deal with in the form of Nina. She is hunting for her sister, and things are happening that cannot be explained. Sidney has begged Adrian not to use spirit, but he cannot abandon Nina. When things go wrong, Adrian finds a way out of court and joins up with Sidney and friends. Now the journey begins. Can they save Jill and find Olive before it is too late? The whirlwind adventure that ensues is filled with unexpected revelations and danger, just how I love these stories! Come along on the ride and you will not be disappointed. Richelle really wraps this one up in only the way she does. It will have you barely able to sit still, taking you into the story and their incredible world. When I hit the end of the story I was like "Holy crap! I never saw this coming!" This is a fantastic read and this series is going in my oh yes I must read these again pile. Great book!
Heidi Ryan gives The Ruby Circle: A Bloodlines Novel