REVIEW– Unconditional Surrender–An m/m Military Bundle
Labels: Book Reviews, Heidi's Reviews
·
Posted by Unknown
at 9:00 AM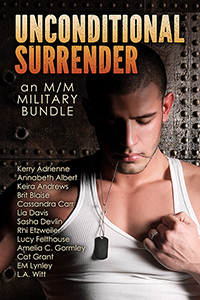 Book Title - Unconditional Surrender- An m/m Military Bundle
Author - Cat Grant (Goodreads Author) (Editor), Cassandra Carr (Goodreads Author), Annabeth Albert (Goodreads Author), L.A. Witt (Goodreads Author), E.M. Lynley (Goodreads Author) (Contributor), Lia Davis (Goodreads Author), Sasha Devlin (Goodreads Author), Lucy Felthouse (Goodreads Author) , Rhi Etzweiler (Goodreads Author), Kerry Adrienne (Goodreads Author), Keira Andrews (Goodreads Author), Brit Blaise (Goodreads Author), Amelia C. Gormley  
Stars - 5
Buy Link – AMAZON
Strong. Sexy. Sizzling.
There's nothing like a man in uniform, and thirteen of today's hottest gay romance authors are celebrating military heroes and the men brave enough to love them.
These brand-new novellas feature all branches of the service and offer something for every reader. Almost 300,000 never before published words!
I tend to shy away from reviewing anthologies. It can be hard to really get across the meanings of the bundles with out ending up with a 500 page review. So I am not going to review each story by itself. As far as the short stories are concerned, I really like this one. It focuses mainly on servicemen who were wounded or suffer from PTSD, or have some kind of trouble. There is only one story that didn't fit this. I originally picked this up because it included a story by one of my favorite m/m romance authors, EM Lynley. I enjoyed most of the stories. I believe it may be hard for some readers because of the subject matter. Short stories are a hard place to explore BDSM, and a few of the stories deal with this. There are heart warming stories of a soldier taking care of another after losing an arm, stories of friends from high school reconnecting after the service man returns to the hometown. There are a few stories that focus on Alaska as the setting. I have reread this book three times so far, so for me, this is a very good bargain. I loved the honesty the lovers explore, the need for another person to help them feel whole. Some of the stories will make the tears come, some are humorous, but they are all sexy and very different from each other. That was a big point for me. I would not have loved it if there were just a dozen stories telling the same thing over and over. This bundle's stories are extremely varied making it an excellent read. But hurry, because this bundle is only available through the end of the year. I think it is well worth exploring and the men are very sexy! Hoorah!
Heidi gives Unconditional Surrender- An m/m Military Bundle