REVIEW – London Falling by Audrey Carlan
Labels: Amy's Reviews, Book Reviews
·
Posted by Unknown
at 9:00 AM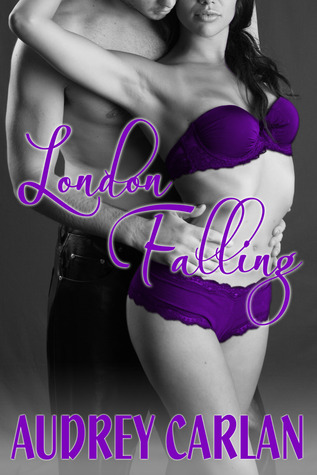 Book Title - London Falling
Author - Audrey Carlan
Stars - 5
Buy Link – AMAZON
I feel things. Deeply. More so than most people.
Call it an empathic ability, call it whatever you want. It doesn't change the fact that I am unable to love…at least not again. When you've had everything and lost it, there is no do-over. You can't repair a shattered heart.

Instead of the pursuit of Mr. Right, I'm forever enjoying Mr. Right Now. It's worked for me the last four years and will continue for the rest of my days.

Then I met him. Collier Stone. My sexy Englishman. He is everything I don't need, but can't deny wanting. His body, his sheer essence calls to that deep place inside me.

Doesn't matter though. Regardless of how delicious his accent or how intense the chemistry that sizzles between the sheets, the simple fact remains. I will never give him, or any man, what they need from me.

My name is London Kelley and I will never fall in love.
I started this book with a good healthy cry- emotional!!! London Kelley married young and became a widow a few years later, losing her husband to a tragic car accident. After losing her true love/ soul mate she feels she has lost the ability to love. She has many one-night lovers with no strings or commitments. She lives with her best friend Tripp, once her lover but the physical was ruining their friendship so now their just roommates. They depend on each other for everything, he's a recovering drug addict and she's a women who has lost her heart and soul- an empty shell. Then she meets Collier Stone, British lawyer, who is employed by Aspen (her sister), his biggest client. It's lost at 1st sight for both, but denied by both. He has been broken by his ex-wife who cheated on him, so he also does one-night lovers not relationships! This is the well written romantic story of London and Collier's meeting and relationship/ Can they learn to feel love again? Can they overcome their fears and let their walls fall? Will they run or have a HEA? I loved this book, it was an emotional roller coaster of a read!! This 1st book in the series Angel Falling had the main characters from that book appearing in this book, Aspen and Hank (for their wedding). Aspen is London's sister. This book can be stand alone, but I read Angel Falling 1st. The 3rd book in the series is Justice Falling- about Collier's brother Nathaniel "Nate" Walker. All 3 books are intended for mature 18+ readers- due to language and sexual content. Received copy of this book for an honest review. High recommend!!! PROUD TO BE AN AUDREY ANGEL!
Other books by this author: 1. Body 2. Mind 3. Soul These books are from the Trinity Trilogy.
Amy gives London Falling