REVIEW–The Burnt Toast B&B by Heidi Belleau & Rachel Haimowitz
Labels: Book Reviews, Heidi's Reviews
·
Posted by Unknown
at 10:00 AM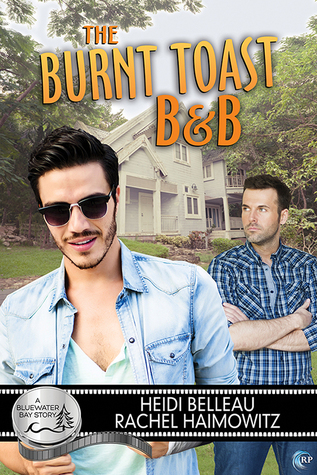 Book Title - The Burnt Toast B&B
Author - Heidi Belleau and Rachel Haimowitz  
Stars - 4
Buy Link – AMAZON http://amzn.to/1vk0nbk
After breaking his arm on set, Wolf's Landing stuntman Ginsberg Sloan finds himself temporarily out of work. Luckily, Bluewater Bay's worst B&B has cheap long-term rates, and Ginsberg's not too proud to take advantage of them.

Derrick Richards, a grizzled laid-off logger, inherited the B&B after his parents' untimely deaths. Making beds and cooking sunny-side-up eggs is hardly Derrick's idea of a man's way to make a living, but just as he's decided to shut the place down, Ginsberg shows up on his doorstep, pitiful and soaking wet, and Derrick can hardly send him packing.

Not outright, at least.

The plan? Carry on the B&B's tradition of terrible customer service and even worse food until the pampered city-boy leaves voluntarily. What Derrick doesn't count on, though, is that the lousier he gets at hosting, the more he convinces bored, busybody Ginsberg to try to get the B&B back on track. And he definitely doesn't count on the growing attraction between them, or how much more he learns from Ginsberg than just how to put out kitchen fires.
This was a very interesting story. I loved it because instead of the normal m/m being two gay men or bisexual men, this one has a transgender male and a closeted gay man. I was very impressed of the way they portrayed the transgender man. He made no excuses, was very honest, and he was very endearing. This was my first read with this dynamic, and I cannot wait to read more. For those of us who do not face this daily, it was very enlightening. The story line is very compelling, and I found myself drawn into the story and I did not want it to end.
Ginsberg Sloan is a 31 year old transgender man who works as a stunt man on a very popular TV show. He does not look his age, he looks much younger. While filming a stunt, he breaks his arm and has to stop working for a couple of months, but he has nowhere to go.
Derrick Richards is a lumberjack, yet after his parents were killed in an accident and he had been laid off, he is back running his family's B&B. And he is doing poorly. He is hung up on appearing male, he was teased because he worked for his parents when he was younger and was teased because he did maid duties and such. He is an angry, frustrated guy who wants to just shut the place down and walk away, but he doesn't have a choice at the moment.
When Derrick heads home determined to shut the B&B down after a difficult couple of guests and his screw ups, he sees Ginsburg huddled on the front porch soaking wet from the rain. He invites him in to warm up and realizes the kitchen is on fire because he forgot to turn it off after burning breakfast earlier that day. When Ginsburg puts out the fire, he decides to let him stay. But he doesn't want him to stay long so he tries to sabotage his stay. Derrick feels defeated and now he is feeling drawn to this adorable man and he doesn't know how to act, or if he should. He knows once Ginsburg's arm heals, he will leave and Derrick is afraid to be hurt. They go back and forth as time moves on, and Ginsburg is helping him fix the place up. This is giving Derrick hope, but for what? To find himself in the same place down the road with the addition of a broken heart? When Derrick gets scared and runs Ginsburg off, will that be the end? Should he shut the doors and go back to logging? The drama that ensues is heart breaking and heart warming. Will the little spitfire melt the loggers frozen heart? Can Derrick see himself the way he is or will he stay haunted by what he thinks his family would have felt? Can these two fragile yet sturdy men find a way through the fear to a place they can both be happy in?
The characters will draw you in, but the honest journey of the story will have you coming back for more. This really is a good read, and if you are like me, it will educate you at the same time, and that is a great thing.
Heidi Ryan gives The Burnt Toast B&B